Foot ulcers can have an their early warning system, and this is probably the only good thing about them. When one of these ulcers are developing developing, it may not be obvious even to a doctor. But it will likely be a warmer spot on your foot.
To take advantage of this warning, a new medical system uses temperature data to predict that an ulcer will develop more than a month before it surfaces. With this system, doctors would have more time to treat it.
Foot ulcers can follow neuropathy, which 60 to 70 percent of people with diabetes have. But neuropathy is not an inevitable consequence of diabetes.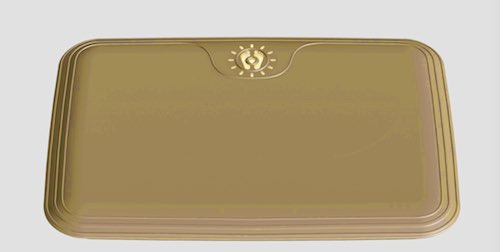 "The best way to prevent neuropathy is to keep blood glucose levels as close to the normal range as possible," the U.S. National Institute of Diabetes and Digestive and Kidney Diseases states. "Maintaining safe blood glucose levels protects nerves throughout the body."
But foot ulcers are the most common reason why people with diabetes have to stay in a hospital, and 15 percent of us develop at least one ulcer. When doctors aren't able to treat them soon enough, ulcers can lead to amputations for up to a quarter of us. In 2010, about 73,000 adult Americans with diabetes had a foot or leg amputated.
Still, if you or your doctor detects an ulcer early enough, you can avoid this tragedy. Fortunately, I was able to listen to a study telling how this new system works when I went to this year's annual convention of the American Diabetes Association in New Orleans. This is the world's largest scientific meeting focused on diabetes, and I represented HealthCentral.com.
Doctor of Podiatric Medicine Robert G. Frykberg presented the study, "An Automated Home Monitor for the Early Detection of Diabetic Foot Ulcers." Dr. Frykberg is the director of podiatric medical education at the Veterans Affairs Medical Center in Phoenix and a professor at the University of Arizona College of Medicine. His unpublished study, 141-OR, investigated whether heat-sensing mats used at home could help detect foot ulcers earlier, and therefore help prevent them.
A study of people at high risk
Dr. Frykberg was the principal investigator of this prospective, multicenter cohort study that followed 129 high-risk people for 34 weeks. Those at a highest risk of developing a foot ulcer are people who already had one, he says. The study included only those people with diabetes who had a healed ulcer or an amputation of the foot.
During the study, 37 of the subjects developed a total of 53 ulcers. The study showed that using the mat could predict the development of 97 percent of the ulcers about five weeks ahead of time.
Using the device is simple
"People who use it have nothing to do except keep it turned on and step on it each morning," Dr. Frykberg says. This takes a thermogram of their feet and sends off the data to a central server. A difference of four or more degrees Fahrenheit on two successive days will register an alert, which is then transmitted to the user and to his or her doctor for necessary treatment.
A start-up company, Podimetrics in Somerville, Massachusetts, makes the device and manages the system. Its Remote Temperature Monitoring System includes the Podimetrics Mat.
It is "a wireless, in-home monitoring technology that collects foot temperature scans," the company says. "Step on it for twenty seconds a day, and we'll take care of the rest."
The U.S. Food and Drug Administration approved the marketing of the device in September 2015, and the United States Patent and Trademark Office granted a U.S. patent in February 2016.
Coming out of stealth mode
Podimetrics has just begun to sell the system. Jonathan Bloom, MD, told me in a telephone interview. He is the company's CEO and co-founder as well as one of the inventors of the system.
"We are providing the system to the VA in particular," Dr. Bloom says. "It is such an important population for us." Dr. Frykberg also told me that the VA Medical Center where he works has begun to use it.
The Podimetrics device requires a prescription, so if you have a history of foot ulcers, you may want to ask your primary care physician or podiatrist about it. But don't be surprised if your doctor isn't aware of it yet.
"A game changer"
When I asked my local podiatrist, John Jachimiak, DPM, at Boulder County Foot and Ankle, what he thought of it, he replied:
"I have not seen this technology, but the concept is awesome. It could be a game changer for people with diabetes."
This article is based on an earlier version of my article published by HealthCentral.
Never Miss An Update
Subscribe to my free newsletter "Diabetes Update"
I send out my newsletter on first of every month. It covers new articles and columns that I have written and important developments in diabetes generally that you may have missed.