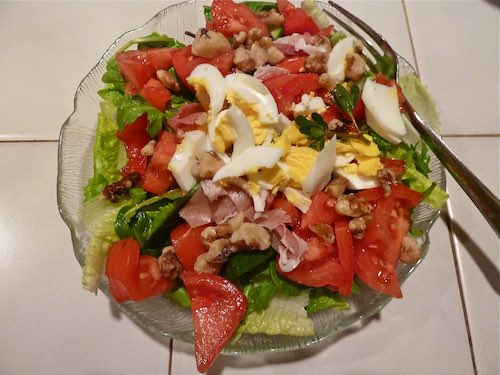 When people with type 2 diabetes follow a low-carb diet, they can substantially reduce how much medicine they need in order to manage this chronic disease. In a new study they needed 40 percent less medicine than a matched group of people who were following the standard high-carb diet.
Reducing risks
When we take less medicine, we reduce our risk of unintended and perhaps yet undiscovered side effects. At some level, all medicine, including both prescription drugs and over-the-counter supplements, become toxic. Weight gain and hypoglycemia are two major side effects of some of the most commonly used diabetes medications.
The reduced need for diabetes drugs is the big news coming from a randomized trial comparing what happens when people eat a low-carb, high-fat diet instead of the high-carb, low-fat diet that the American Diabetes Association has advocated for years.
But it's precisely the reason why I stopped using diabetes drugs in 2007. I have nevertheless maintained an A1C level in the mid-5 range ever since, and my A1C is currently 5.3.
Other low-carb benefits
And this is not the only benefit that the new study — as well as my personal experience — demonstrates. The people in the study who ate low-carb had less glycemic variability, and better triglyceride and HDL (the good cholesterol) levels.
Personally, my blood glucose level rarely goes above 120 and never goes below 70, so I never experience glycemic variability. This is such a big issue with certain diabetes medications like insulin or one of the sulfonylureas. My triglyceride and HDL levels improved dramatically after I switched to a low-carb diet from a diabetes medication. A few months before I went low-carb, my triglycerides were 109 and my HDL was 40. A month after I went low-carb, my triglycerides plummeted to 47, and my HDL improved to 68.
Clear answers
While lots of earlier studies had analyzed the differences between the two main types of diabetes diets, few if any, have provided such clear answers. The new study randomized 115 obese people with type 2 diabetes to two groups that ate the same amount of calories daily for a whole year. Conducted in an outpatient research clinic in Adelaide, Australia, the study made sure that the people on the low-carb diet were eating fewer than 50 grams of carbohydrate per day. They got their fat content largely from nuts, avocado, and low-fat dairy, rather than from saturated fat. On the other hand, those on a high-carb diet ate around 180 grams of carbohydrate per day.
Eight researchers from Australia, Singapore, and North Carolina carried out this study, "Comparison of low- and high-carbohydrate diets for type 2 diabetes management: a randomized trial." The American Society for Nutrition has so far published only the abstract online. But the lead author, Dr. Grant Brinkworth, sent me a copy of the full text on my request. He is the senior research scientist at Australia's Commonwealth Scientific and Industrial Research Organisation and an adjunct associate professor at the University of South Australia.
Amazing benefit
"The most amazing benefit of the low-carbohydrate diet was the reduction in the patient's medication levels," Professor Brinkworth says. "This research shows that traditional dietary approaches for managing type 2 diabetes could be outdated. We really need to review the current dietary guidelines if we are serious about using the latest scientific evidence to reduce the impact of the disease."
This article is based on an earlier version of my article published by HealthCentral.
Never Miss An Update
Subscribe to my free newsletter "Diabetes Update"
I send out my newsletter on first of every month. It covers new articles and columns that I have written and important developments in diabetes generally that you may have missed.