Sometimes to get better photographs you need to move just a few steps to the left or right. Sometimes you need to take more drastic action, like lying down in the dirt where the mushrooms and flowers are. And sometimes you need to climb above it all to see its sweeping beauty.
That's what I had to do today to capture digital images of the Grand Canyon that are good enough to do it justice. I flew over its spectacular scenery for an hour in a helicopter. As soon as I found out that I could take a helicopter flight over the Grand Canyon I knew that I had to do it.
My one previous helicopter flight over Kauai showed me incredible scenery that I never could have seen on the ground. Today's flight was just as special.

But I had to make three different reservations to get the flight time I wanted. I figured that the earliest flight would have the best light, and finally ended up with a seat on it.
My seat was a very good one too — in the middle between the pilot and one of the three passengers besides myself. The helicopter was a new Eco-Star:
Getting good pictures today was a piece of cake. All that I had to do was to snap away, and I did that exactly 100 times.
The only challenge was to make sure that the helicopter's vibration didn't result in photo jiggle, the same challenge I faced on the wonderful whale watching cruise a few days ago. But this was easier because the sun was so bright today. Consequently, I was able to use very short exposures — sometimes as short as 1/500th of a second.
The pilot flew so close to this rock that I was tempted to grab the steering wheel. Instead, I took a photo of "The Battleship:"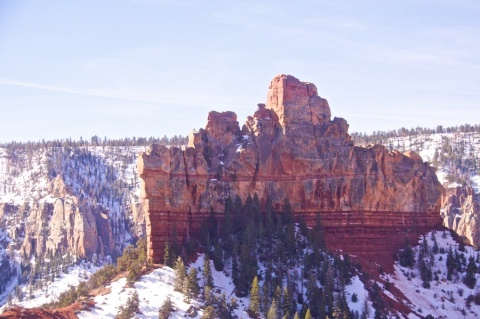 The distances are immense:
But what I flew for was to get views of the Colorado River. And I got them:
Eventually, of course, I had to come back to Earth. I did it in the most gentle way, by returning for the third time in two days to my favorite overlooks, Grandview Point, Lipan Point, and Navajo Point.
What more can I say? For a place as beautiful as the Grand Canyon, the pictures say it all.